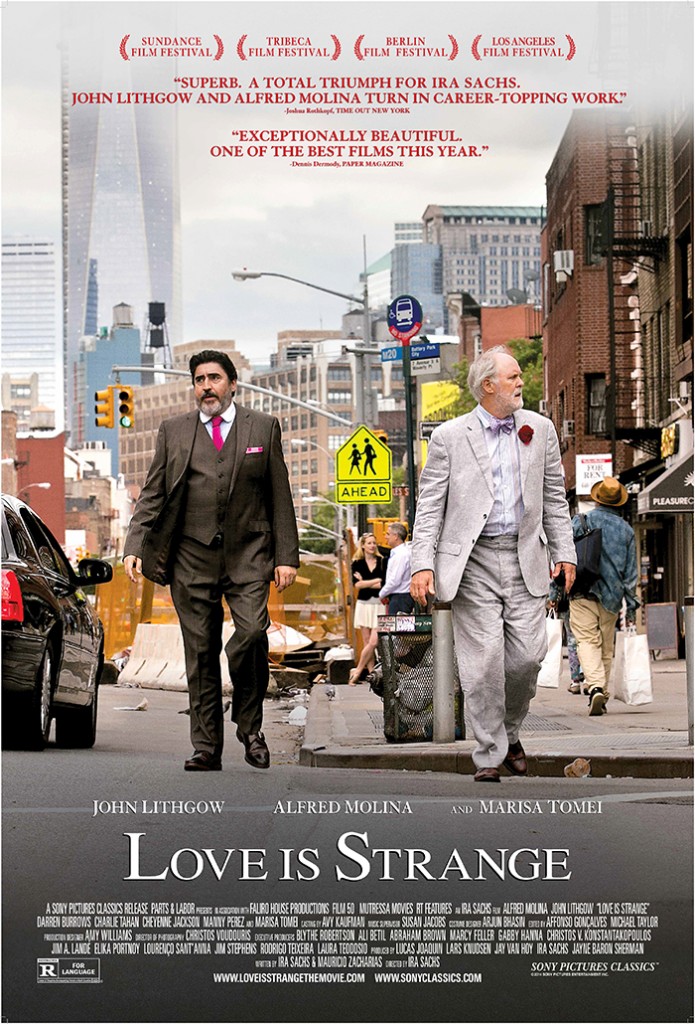 I haven't seen the new flick "Love is Strange," but according to reports, the film is absolutely clean. No sex, no nothing, just gay romance. So why did the Motion Picture Association of America give it an R rating? The only answer seems to be that the movie features two men in love.
 A BREAK FROM TRADITION; 
PLAYING DEVIL'S ADVOCATE
Good news everyone! We dodged a bullet in the U.S. Court of Appeals for the Seventh Circuit, a federal appellate court out of the Midwest that features a two-to-one ratio of GOP versus Democratic appointments. One report likened our lucky break to hitting a legal jackpot as the three-judge panel was announced for the appeal of marriage victories in Wisconsin and Indiana.
What happened? We ended up with a Clinton pick, an Obama pick, and the veteran iconoclast, Richard Posner, appointed by Ronald Reagan but definitely on our side. In oral arguments at the end of last month, these three eviscerated the hapless lawyers who attempted to defend marriage discrimination, leading commentators to break from tradition by predicting a sweep in favor of marriage equality.
I say "break with tradition" because no one likes to jump to conclusions after oral arguments. A judge who asks a tough question might be playing devil's advocate, or giving a lawyer a chance to shine. Plus, most rulings are based on the written briefs anyway. That said, this hearing seemed to be an exception to the rule, with comments from the bench so scathing that attorneys trying to argue for the status quo were left muttering and sputtering. Bottom line: an appeal that we could have easily lost seems to be headed for the win column.
Meanwhile, the opposite is true for the Sixth Circuit, where arguments were held earlier in August for cases out of Kentucky, Michigan, Ohio and Tennessee. There, we seemed to have one judge on our side, another one against us, and a third who also leans towards state's rights. Now, however, some are wondering if the Sixth Circuit panel might be wary of becoming the first federal appellate court to rule against gay couples. After all, they watched the Tenth Circuit rule in our favor. They watched the Fourth Circuit rule in our favor. They see that the Seventh is heading our way. And, for reasons I won't repeat, they know the Ninth Circuit is going to back marriage equality as well.
With the Fifth Circuit stalling on the Texas case, do they want to be the only appellate court to come out in favor of continued discrimination? Maybe so. Or maybe they'll stall. Or maybe, just maybe, they'll find a way to rule without condemning gay couples to second-class citizenship.
ALL ABOUT TIMING 
AND PROMPT RESOLUTIONS
At any rate, as you know, the Supreme Court will be asked to take the cases out of the Tenth Circuit and the Fourth Circuit. Assuming the justices take one or all of these appeals, the whole issue of marriage equality will head to the High Court in the upcoming session. Presumably, the results of the other appellate court rulings on marriage will combine with these cases, or await the decision of the justices next June.
Could this scenario be wrong? It's hard to see how. The Supreme Court has put a hold on marriages in Utah, Oklahoma and Virginia, and those holds will expire if the justices decide not to review those cases. Why would they hold off on these marriages, only to let them take place after a few months delay? Keep in mind that should the stays expire, marriage equality would quickly become law throughout the Tenth and Fourth Circuits, bringing the Carolinas, West Virginia, Colorado, Wyoming and Kansas into the equality column.
As for the timing, the Supreme Court issues rulings through late June, and sometimes the first few days of July. So, with very few exceptions, any case it takes is resolved by mid-year. In the case of Brown v. Board, the Court requested additional briefs and managed to delay its segregation ruling for a year, so there is some precedent for stretching things out. In this instance, however, the Court has to realize that a prompt resolution is in the country's best interest.
STERLING, 
STIVIANO AND THE PORTRAIT 
OF DORIAN GREY
Enough marriage news. I just read that ex Clippers owner Donald Sterling is reportedly gay. So says his paramour, V. Stiviano, in legal filings. Stiviano said Sterling used her to draw attention away from his closet door, and I think I speak for all of my gay male readers when I wonder just what kind of healthy and sane man would have sex with Donald Sterling? The guy looks like the portrait of Dorian Grey. Toss in a little racism, a little narcissism, and a dollop of pure crazy and you've got an extremely repellent package.
I was just imagining Donald Sterling on Grindr, which reminded me that Grindr reportedly can pinpoint your location down to 100 feet. Not only that, but a person could discover your profile along with your exact position, fine for the cute guy you're trying to meet, but not so fine for the troll who's stalking you. Someone in a rural area would be identified for sure, a danger if there's a gay basher looking for action in the countryside.
Grindr explains that a user can simply turn off the locator, but (pardon my ignorance) doesn't that kind of miss the point of Grindr? I also can't help wondering why such a significant problem has gone unreported all these years.
GAY ROMANCE & THE MOTION 
PICTURE ASSOCIATION OF AMERICA
So, how about the former governor of Virginia and the bitchy ex FLOVA, an antigay sleazebag married to a money grubbing harridan both in pursuit of a con artist? I have been enjoying their public humiliation, although I'm not proud of myself for that. But really. If you're going to compromise your life, career and reputation, you would think that you'd get more out of it than a shopping spree and a few rounds of golf. They're not only corrupt, they lack imagination.
I also saw that ESPN apologized for a gratuitous report about gay NFLer Michael Sam. The sportsters informed us that Sam makes a point of waiting until his teammates are done with the showers before using them himself, a revelation that may or may not be true and that implies that shower habits are indeed a critical factor in how openly gay athletes may participate in team sports. As Chris Long, one of Sam's fellow Rams, tweeted to ESPN: "Everyone is over it except you."
Finally, how annoying is the Motion Picture Association of America, the group that among other things hands out movie ratings? I haven't seen the new flick "Love is Strange," but according to reports, the film is absolutely clean. No sex, no nothing, just gay romance. So why did the MPAA give it an R rating?
The only answer seems to be that the movie features two men in love. But is that grounds for banning anyone under 17 from the audience? Even with parental approval? If so, the MPAA has some 'splainin to do. Oh, and keep in mind that an R rating automatically cuts into box office receipts, so the MPAA is not only discriminating, it's screwing the producers.
YOUR CHRISTMAS SHOPPING 
MADE EASY
Finally, you LA sophisticates probably know all about the proposed coffee table book titled: "Gay Men Draw Vaginas," a compilation of artistic efforts in this regard assembled in the Bay Area over the last year or so. If you don't, you should. And if the publishers haven't reached their $37,000 goal on kickstarter by now, we all should throw in a few more bucks.
Because we need this book to come out in time for Christmas!
The project began when Shannon O'Malley asked her gay buddy Keith Wilson to draw a vagina on the table at a restaurant with a crayon. Wilson's attempt inspired the other men at the party to try their hand, and the idea was born. Wilson and O'Malley subsequently set up drawing stands at gay events, eventually collecting what sounds like a provocative array of images. And yes, I imagine some of my sisters will soon be contributing to an edition of "Lesbians Draw Penises."
I'd be embarrassed to try, but I'm not sure many of us could do a vagina either. We usually have our eyes closed.