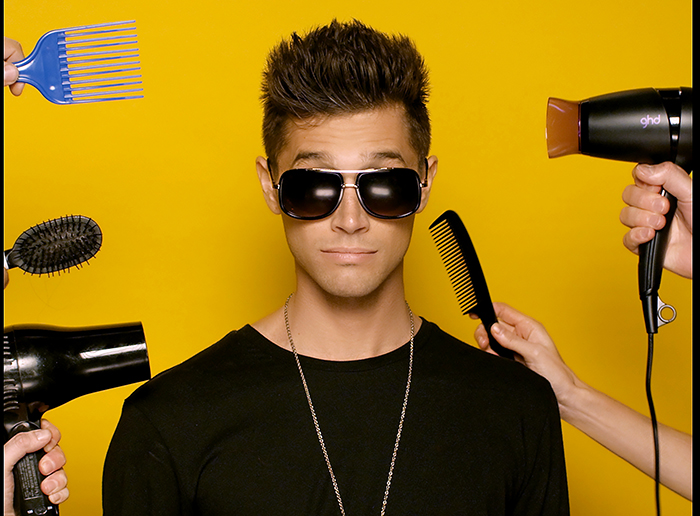 Stewart Taylor releases new single and music video.
BY VICTOR MELAMED
In Mess Your Hair Up, singer/songwriter Stewart Taylor encourages fans to be playful and adventurous with their significant others. Produced by David Pramick and John Silos, the R&B funk track is reminiscent of Off the Wall-era Michael Jackson and was inspired by Taylor's own long-distance relationship. "I had recently moved to LA from New York and my partner sent me a super sexy picture," he explains. "I told him I wanted to jump on him and mess his hair up! The chorus of the song came to me almost immediately afterwards."
"Everyone deserves to be happy in and outside of the bedroom," he reflects. "While Mess Your Hair Up may appear simplistic and perhaps more superficial than my previous tracks, sometimes simple and fun is better. One of my favorite Prince songs is literally about wanting his lover's 'extra time and their KISS,' and it's still iconic."
"The biggest hurdle I've had to face has been being an out-pop artist," reveals Taylor. "I've been passed up by major TV shows, executives, and record labels simply because I am out. Even with all the progress the LGBTQ community has made in the last few years, there still needs to be more LGBTQ visibility in music and entertainment. At the end of the day, so what if I'm not an All-American straight guy? All of my favorite artists and songwriters started from nothing and built empires, despite obstacles and adversity, and I aim to be the next out artist who breaks through."
His optimism shines through in the colorful music video for Mess Your Hair Up. "I wanted to keep it fun like the song itself, with a hint of old classic Hollywood in the black and white scenes. The video celebrates white, black, Latino, and even drag queen hairstyles because all of it is beautiful to me. I also had the privilege of working with LA-based choreographer Johnny Rice (Taylor Swift, Adam Lambert) on the dance numbers in the video, so hopefully it makes people want to get up and dance, too."
Mess Your Hair Up is available on Apple Music, Spotify and all digital platforms. Its video is on Youtube as well.
---
Visit www.stewarttaylorofficial.com. Follow on Instagram @Stewarttaylormusic