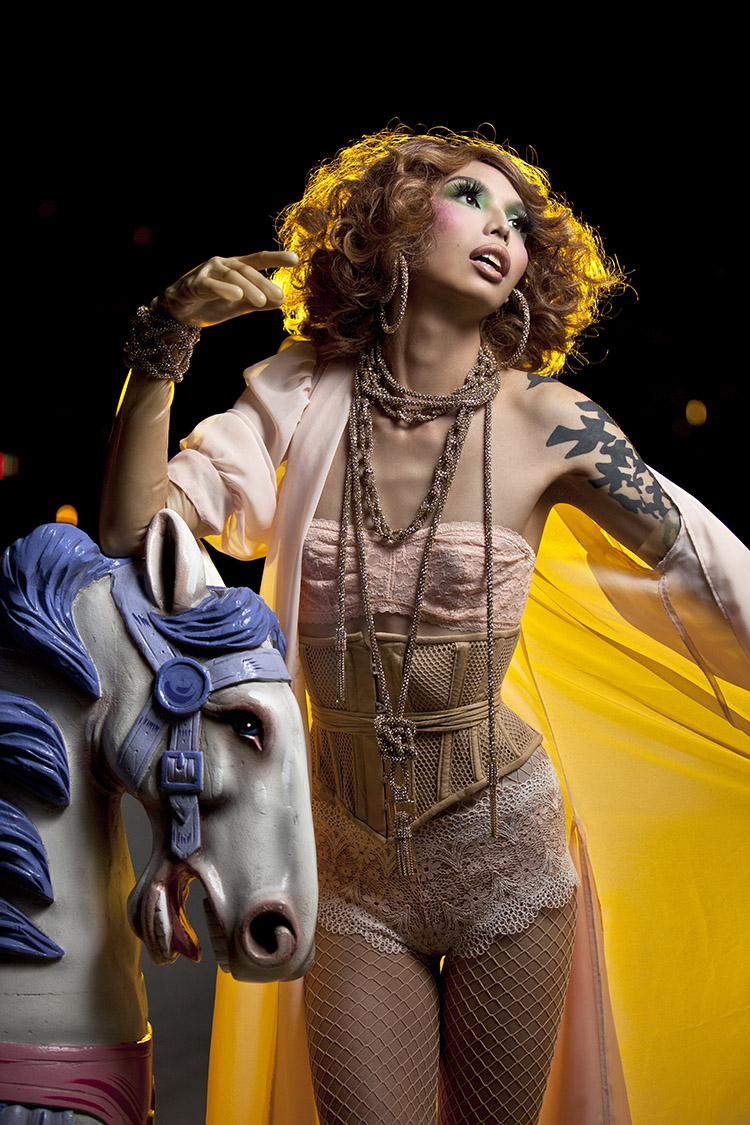 HIV positive trans performance artist Daphne Von Rey on underground celebrity, physical reveal and how sobriety changed her life.
BY AUGUSTUS BRITTON  |  PHOTO BY DUSTI CUNNINGHAM
It is twilight. Orange and pink color is shining through the plein air space. It is 6pm. A perfect magic hour glow surrounds me. A coffee is six dollars. Parking is ten. The homeless mingle with the financiers.
I'm waiting for Daphne Von Rey at The Grand Central Market in downtown Los Angeles. And there she is. She doesn't see me, but I immediately notice her. A swan walking quietly up the staircase. A cluster of black birds tattooed on her shoulder, which is revealed under the ripped up band tee. Her eyes are pointing out to the side, followed by an inviting, all too perfect nose.
"How are you?" I say, sensing some shade of disappointment on her face.
"I was called a faggot walking over here," Daphne sighs, throws a hand up in the air, as if the customary response is one of, "Honey, please, is that all you've got to say?"
We buy our six dollar coffees and sit down outside. Daphne's voice is very erotic, very full and juxtaposes her feminine features in such a singular way. You can't help but be entranced when in her presence.
"Your name?" I say.
"Daphne Guinness. Dita Von Teese. Lana Del Rey. Daphne…Von…Rey" she says, "Those three are my idols, and I'd rather not meet them."
There is a momentary silence. Daphne seems uninterested in speaking. Her hands are playing a little game with each other.
"If someone is going to deny me because of who I am then they don't need to be in my life."
I watch the security guard smoke a Parliament. He's staring at Daphne and I. I mull over his face. He looks ornery. Suddenly, he turns and disappears into the crowd, leaving me unsure of how you approach this woman. Daphne is a sight to see. And I can only assume the security guard was taking her in.
Daphne is a creature that looks to have just walked with twinkling, bare feet from a Shakespearean forest. Her delicate fingers are clasped and up against her full mouth. I spot a tattoo on the side of her right hand, it reads: je ne sais pas.
"It's a line from one of the most iconic books for me, Albert Camus' The Stranger," she says, studying the cursive inked onto her skin.
"It molded a lot of my life. Maman died today, or maybe yesterday, I don't know, is where this line comes from…when we were in high school everyone fucking hated the book, and I was like, I get it!" Daphne laughs, "I identified with it in that: the only time he [the character in The Stranger] had an existential crisis was when he was worrying about the future or dwelled on the past, you know? It's about teaching yourself to live in the moment…it's what got me through high school…it was my first introduction to making every moment count," she says.
Daphne, who's real name is Hieu-Hoa (pronounced hugh-ha) which comes from her Vietnamese descent, smacks of one that is consistently observing, constantly willing to find new avenues to reveal herself to…herself. However, I don't find Daphne to be egocentric, even though one of her main job titles includes dancing half-naked in six or seven inch leather platforms in front of roaring crowds at established venues like The Eagle LA (which she began going to as a teenager, sneaking in and enmeshing herself in the leather scene), Banjee Ball, Rhonda, and as a part of The House of Chanel, a staple in the ballroom world.
"If it wasn't for that community—the community of performers and the people who just go to check it out—I wouldn't be able to have the confidence to get through all the daily annoyances and transphobia, you know?"
She cites a select group of people that took her under their wings and giving her gigs while coming up as a performance artist and dancer, including The Boulet Brothers, Chris Bowen, Gregory Alexander of Rhonda, Lucas John, Saint Peter D'Vil, and Isla Chanel, a promoter for Banjee Ball.
"They were so open to the idea of my queerness. One day after discovering the documentary Paris Is Burning I went to Banjee. I was encouraged to walk the runway," she says, reminiscing, flipping dark waves behind her ear, "I was nervous the first time, I wasn't sure if I fit in or if I was trying to live up to some standard, but the second time I went I just let things go…"
"So you're able to take the energy of the ballrooms with you wherever you are?" I ask.
"You can become some kind of underground celebrity in the ballroom scene," she says, shrugging, seeming to be turned off by the idea, but not exactly opposed to the idea either, "and you can take that out into the world…from facing things just walking up the street, and people pushing their insecurities on you…but what the ballroom scene reminded me of is that if I can serve it once I can serve it twice…outside in the world," she says.
"What are the similarities between being in program and being in the LGBTQ community?" I ask, having just had the fact revealed to me by Daphne that she is approaching two years sober.
"Going to where the love is," she says, stopping quickly, closing her mouth, as if that's all there is to it, but I'm still there, my ears pricked up, curious for more, she obliges my energetic request, "rather than seeking out people and being disappointed…going to where people accept you. Finding the rooms and people who appreciate who you are rather than being an idea of yourself…for me the hardest part was that you find people coming and going when trying to get sober, but you will find those real people [eventually], the reliable ones, the reliable ones who are always there when you need to be picked up off the floor."
Daphne credits getting sober with helping her art and helping her mindset change positively regarding her approach to life.
"For me, a lot of my time before getting sober, I was living in the past," she says, "and I was holding onto a lot of it, and getting sober has helped me to let go of a lot of the past that I don't need to hold onto anymore, and I feel especially with the LGBTQ community, a lot of the shame and stigma comes from what we hold onto from the past that told us that you aren't worth it, or that you're trash, or we should be ashamed of ourselves or no good. Because from a young age, when you come out, you're constantly told that gays are going to hell, and all the typical shit. And I remember when Prop 8 came out I was involved in the church community, and I was sitting in the church and was into what I thought was this great community, but one day the priest took his time to make a sermon about Prop 8…he said if you know any gay or lesbian people then you must know that they're sick and have pity for them, because they don't know what they're doing…and I held onto that for the longest time…so, for me, being in recovery has taught me to live each moment as opposed to survive each moment. When you're holding onto the past and not living in the present you're really not here, you're constantly looking back and not seeing what's going on around you…"
Daphne's art is often times centered on giving her audience a complete spiritual and physical reveal. She is willing to bare her flesh and shed emotions that most wouldn't be willing to unveil. She is openly HIV Positive, and uses that as inspiration in her work. A recent show entitled Marché aux Fleurs invited the guest to take a flower from a vase that was dipped in Daphne's blood, "If someone can't accept this flower fully for what it is, except for the fact that it was watered with something different, something different running through it, then they didn't need to take the flower, but some took it and embraced it…I would just like to encourage people that if someone is going to judge you and shame you because you're different than them, you should know that you don't have to take on their shame, you don't have to be like them…" she says.
"I haven't transitioned physically. I've left my voice deeper. I am living who I really am," she says, her small right hand pressed up against her chest.
"And I'm now part of an artist registry called Visual Aids," she continues, "and joining that registry helped me put it all out there. HIV Positive and Trans performing artist, and some people ask if I'm sure I want to be open about it, and yeah, I do, why the fuck not? If someone is going to deny me because of who I am then they don't need to be in my life."