Painting by Miguel Angel Reyes
Local gay artists discuss their work, inspiration and accomplishments in the art world.
BY PAULO MURILLO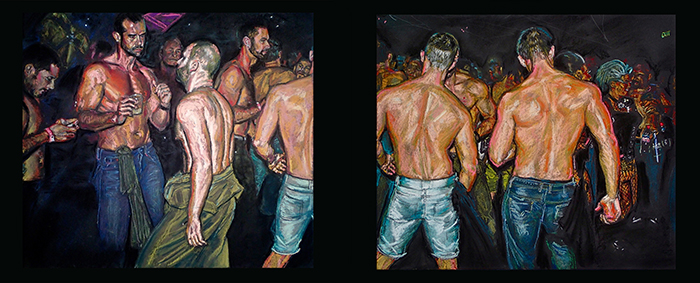 Miguel Angel Reyes
INTIMATE SITUATIONS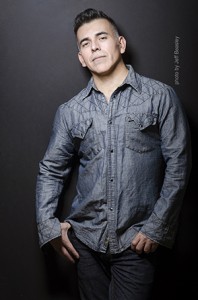 Mexican born artist Miguel Angel Reyes is a Los Angeles-based portrait and figurative painter, muralist, printmaker and illustrator. He graduated from Otis Parson School of Design in 1987 with a BFA in illustration. Reyes incorporates expressionist brushwork and a saturated palette in celebration of his Latin roots. His experience as a stylist, designer, dancer and photographer contribute to his artwork.
His art has been exhibited throughout the U.S including—Los Angeles, San Francisco, Chicago and Alaska, as well as internationally in Germany and Korea. His murals have been commission by MTA. His work is in the LACMA print collections, Laguna Art Museum, Watts Towers Arts Center to name a few. An accomplished muralist, in 1995 Reyes completed one of the largest mural projects in Los Angeles, the 750 foot Amistades (Friendships) at the corner of Hollywood Boulevard and Argyle.
"I love to draw all kinds of models, either live or via Video Chat. The drawing session is an intimate situation where the models reveal themselves physically and sometimes emotionally. Ultimately, the drawings show the personality of the models with my direction all rolled into one. A drawing session to me is a moment of meditation, conversation and always leaves me with a feeling of great satisfaction."
He's currently showing at Queer Biennial from June 29—July 19 with a long list of participating artists. Visit queerbiennial.com for more information.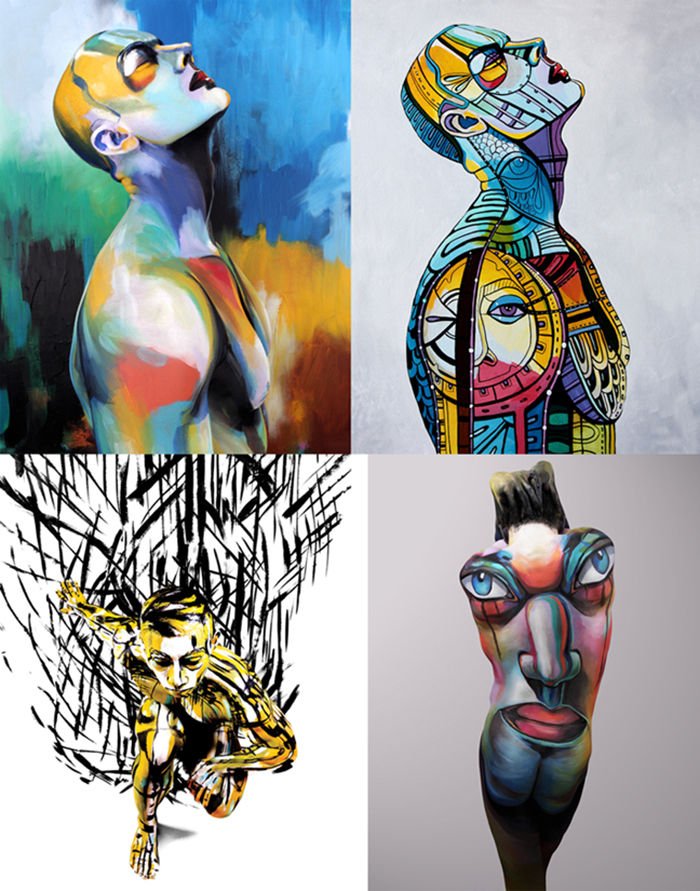 David Gilmore
PAINT EVERYTHING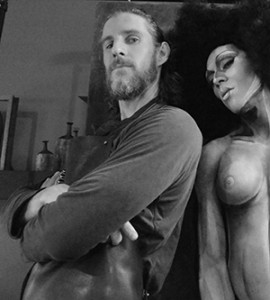 David Gilmore has a "paint on everything" approach to art-making. That "everything" includes paper, canvas, wooden panels, furniture, musical instruments, walls, clothing, surfboards, and bodies.
Shortly after graduating from the University of Washington with a BFA in printmaking, he relocated to LA where the heightened sense of pop and celebrity culture greatly influenced his style and approach. His pop culture illustrations have been featured on Bravo TV and virtually all the top entertainment blogs. David's mural work has spanned coast to coast. The medium of body painting combines all his interests: fine art, illustration, photography, and the painting/integration of backdrops. With body paint, he's enjoyed a number of projects with MAC Cosmetics, magazine features, an AT&T commercial, gallery shows, working at events, private commissions, and even painted Mariah Carey's pregnant belly.
"I grew up in a tiny town so I was always in my own head writing and illustrating stories, painting far off fantasy worlds, and drawing colorful characters who I hoped one day would populate my future. If you're open, and in tune, inspiration can come from everywhere. I've been an observer of rather odd details around me for so long that I'm kind of unconscious to it at this point. I'll start drawing and go, 'Oh yea, that's someone who I was in line behind me at Starbucks the other day.'"
For more on Gilmore's work, visit davidgilmorestudio.com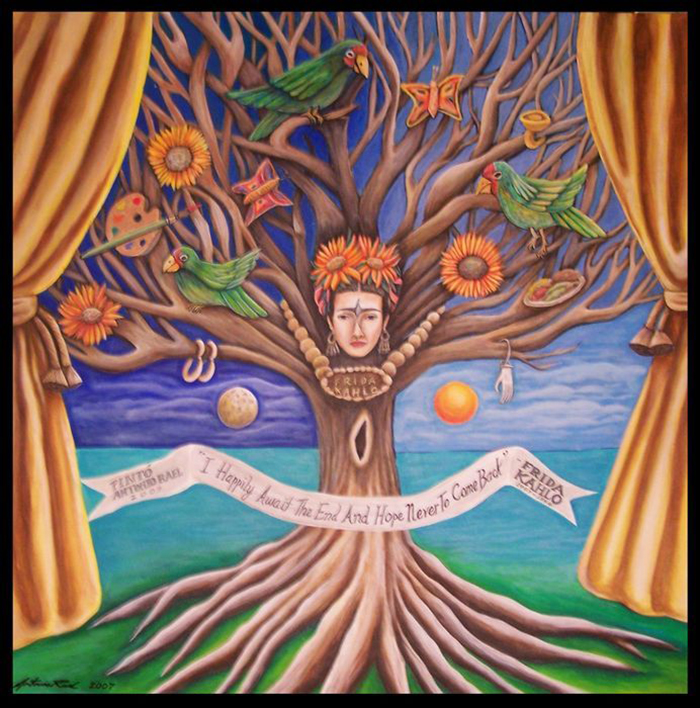 Antonio Rael
SPIRITUAL CONNECTION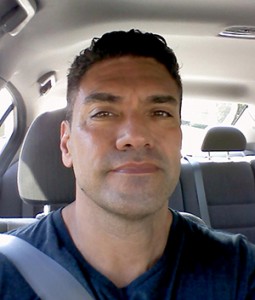 West Hollywood resident Antonio Rael is a Latino artist who transferred from Pasadena City College to the University of California where he received his Bachelor's Degree in Art. He taught art to inner city kids at Broadway Elementary before he became an art instructor at the Brentwood Art Center and at the Los Angeles County Museum of Art.
Rael is known for his use of bright, bold colors and unique imagery that pays homage to his Latino culture. Latino-inspired images such as calaveras, churches, flowers, altars and Frida Kahlo are re-occurring themes in his artwork. He's currently a beauty stylist at Nordstrom and he sells his art via an online store called Latino Pop Art, which was once a physical store in West Hollywood.
"Spirituality and my Latino heritage along with being gay are my key motivators, when creating artwork. I love using bright colors and black bold outlines to create intensity. I also include positive uplifting messages. Connecting with people on a spiritual level has always been important to me."
To purchase his art, visit cafepress.com/latinopopshop.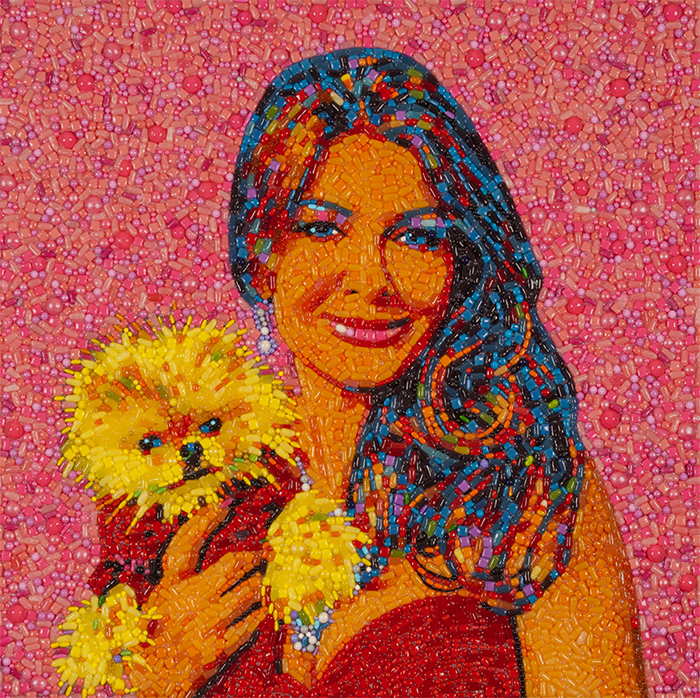 Jason Mecier
STICKY AND SWEET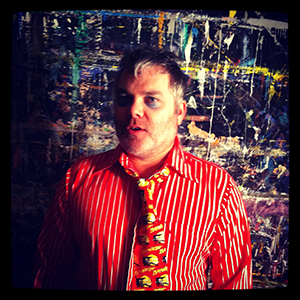 Pop Artist Jason Mecier is known for his one-of-a-kind outrageous mosaic portraits. He meticulously fabricates anybody out of anything, from Kevin Bacon out of bacon, to Honey Boo Boo out of 25 lbs. of trash, to Kelly Osbourne made out of candy. Jason's artwork has been featured everywhere from Entertainment Weekly to The New York Times, on TV shows like Glee, Rachael Ray and TMZ, as well as music videos by Pink and Pitbull. His portraits are hanging in Ripley's Believe it or Not Museums, countless celebrity homes, and even in The Playboy Mansion.
His latest work Candylebrity, is currently showing at SWEET! Hollywood (sweetlosangeles.com), from June 25—September 25, 2014. Candylebrity is a sugary new series of candy portraits inspired by Hollywood's sweetest stars! The likenesses of lickable ladies like Lisa Vanderpump, Big Ang, and Miley Cyrus have been captured to perfection. There's also man-candy like James Franco, Breaking Bad's Walter and Jesse, and Zack Gummy Bear Galifianakis! Candylebrity used Candy Corns to capture the ladies from Orange is the New Black and Judge Judy is made of Hot Tamales!
For more on Jason Mecier's art, visit his website at jasonmecier.com.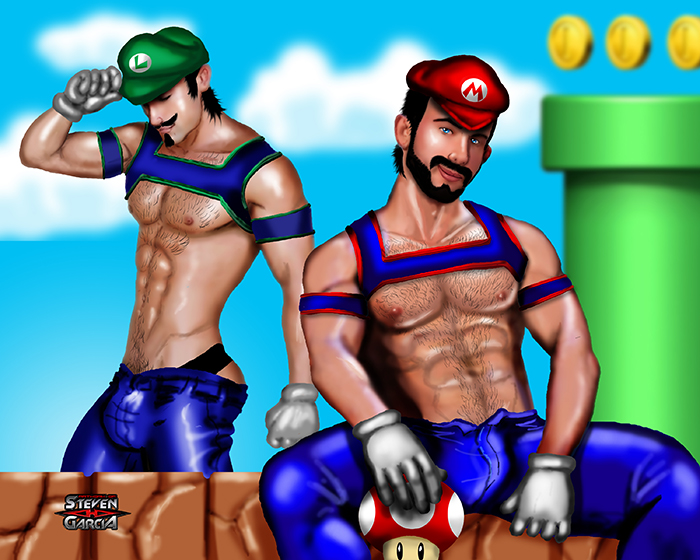 Steven H. Garcia
FANTASY FORMS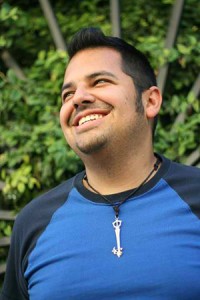 Artist Steven H. Garcia was born in Chicago in 1982. He moved to Long Beach in 2000 to study graphic design/multimedia. He takes video game characters, comic book super heroes and gives them a sexy, if not perverted twist.
Garcia created a huge collection of sci-fi/comic erotic pin-ups. Categories include: Boys, TV Hotties, Male Super Heroes, Female Super Heroes and Sexy Greek Gods. His artwork, has been showcased at Tom of Finland: Erotic Expo, Bent.con, Raw: natural artist, noiZe magazine, Adelante magazine, Comic-con, Gay Pride (Long Beach, L.A. Orange Count, San Diego, Palm Spring and Los Vegas) and GED: Gay Entertainment Directory.
"The human body is beautiful, powerful, and full of hidden wonders. I like to bring that out in the fantasy forms that I draw. People like seeing their favorite superheroes being all sexy and shameless." He'll be showing at GaymerX2 July 11-13 and San Diego Pride July 19-20.
To see his extensive collection of sexy characters, visit his website at stevenhgarcia.weebly.com.