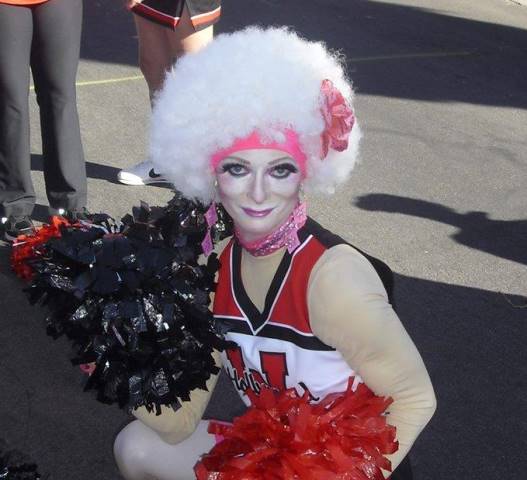 The community is mourning the recent loss of Michael Brzoznowski, a West Hollywood Cheerleader, known to many as Bambi. Details of Brzoznowski's death are unclear at the moments.  According to some close to him, he passed on Sunday, March 30.
Many people thought it was an April Fool's practical joke.  However, family members have confirmed his passing via his Facebook page.
"Friends and family, I bear sad news," read a statement from Brzozkowski's, nephew Javier Gallegos. "My fabulous Uncle Mike passed away yesterday evening at Cedar Sinai Hospital. As you all know, he and I were very close and his passing has me overcome with emotion. I am so grateful that I had him in my life. We shared so many fun times together that have left me with the hilarious stories I've shared with many of you over the years. He was magic to me, and I was always so proud to show him off to all my friends. He was my number one supporter and cheerleader and I will miss him dearly. Please keep Uncle Mike in your prayers. He loved you all very much, and I loved him. Rest in peace Uncle Mike."
Friends and loved ones are posting photos, sharing anecdotes and saying their goodbyes on Brzoznowski's Facebook timeline.
Brzoznowski's Bambi was known for her sense of humor, showmanship and elaborate wigs. Bambi was very active in the community, she was of service and participated in support of several good causes as part of a troupe for the West Hollywood Cheerleaders.
Council member John Duran will adjourn council in his memory.
According to Gallegos, details about a memorial service are still to come.
Corrections— Brzozkowski was a former West Hollywood Cheerleader. At the time of his death, he was a member of the newly founded group of entertainers called the West Hollywood Elite Cheer and Entertainment Group. Brozozkowski's nephew's name has been changed from Miguel Ramos to the corrected Javier Gagellos. 
— Paulo Murillo