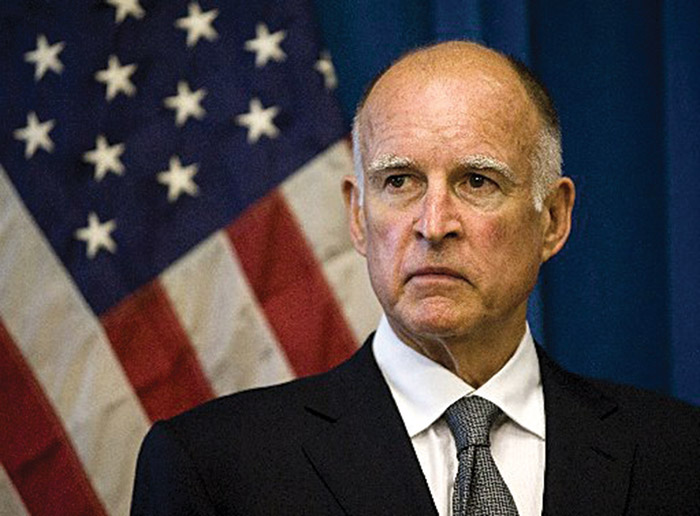 BROWN AWARDED FOR ADVANCING EQUAL RIGHTS
Equality California presented the Democratic governor with its leadership award.
> Gov. Jerry Brown praised gay rights advocates last month for being on "the cutting edge" in pushing for equality over the last several decades, as he was honored with an award for what supporters said was his lifelong push to advance equal rights, reports The Associated Press.
"When people are in the shadows, the only way out is courage and being able to go against the grain and having allies," Brown told a reception hosted by Equality California, saying the group has been a powerful ally in advancing gay rights, which he compared to the more recent immigrant rights movement.
Equality California presented the Democratic governor with its leadership award, with presenter Robert Ross telling the crowd that Brown was the first governor in the United States to appoint a gay judge, in 1979, and the first politician to "openly, powerfully and compellingly embrace gay rights" in the country.
It also cited his signing of several pieces of legislation since he became governor again in 2011, including legislation last year that guarantees students in grades K-12 the right to use the school restrooms and to participate in the sex-segregated activities that correspond with their expressed genders instead of their school records. Opponents had sought to put a referendum on the law on the ballot this year, but failed to gather enough signatures.
Brown did not directly address that legislation in a brief speech to the group, but said when he first became involved in politics, "there was nothing like the recognition, the appreciation or the respect that lesbian and gay, transgender, bisexual individuals now get."
"It's a sea change. And it really gives confidence that we do make a difference," Brown said.
Equality California also honored Lt. Gov. Gavin Newsom last month, presenting him with its Vanguard award for initiating gay marriages in 2004 as mayor of San Francisco.
Brown praised Newsom as he urged Equality California supporters not to pursue legislation as the sole path for social change.
"For example, Lt. Gov. Newsom, he probably did more in that one act as mayor of San Francisco than probably 1,000 laws," he said. "So action, courage, standing up when it isn't—when somebody isn't—that's what makes a leader."