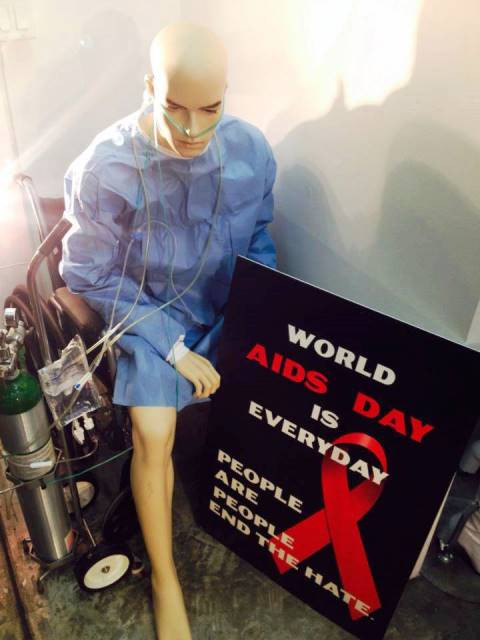 Nir Zilberman, the owner of LA Jock in West Hollywood, who shocked a community and made headlines for dressing up one if his mannequins as a holocaust survivor to bring awareness to anti-gay legislature in Russia during the Sochi Olympics, is at it again. This time, Zilberman has dressed up one of his mannequins as an AIDS patient for AIDS awareness and posted a photo on his Facebook page.  
     The mannequin is wearing a hospital gown and is attached to an oxygen tank in conjunction to a World AIDS Day candlelight ceremony Zilberman is trying to organize on April 12, from 9pm to 11pm, in front of his store, on 8915 Santa Monica Blvd, in West Hollywood.  AIDS Day officially falls on December 1, but according to signage at LA Jock, everyday is AIDS Day, or it should be. The sign reads: "People are people. End the hate."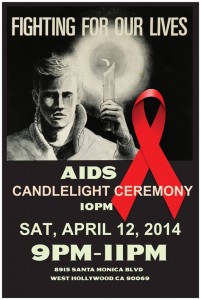 Israeli-born Zilberman, is known for being eccentric and using his store as a platform to generate attention to his causes. In early February, he organized a demonstration in support of gay men who are victims to violent crimes in Russia during the opening ceremony at the Sochi Olympics. The event was poorly attended–most likely as a result of a sexy mannequin he posted on his LA Jock store front window that posed as a Nazi concentration camp prisoner with a Star of David and a pink triangle badge on his chest.  The mannequin stood next to images and disturbing video footage of gay men being beaten in Russia.
The AIDS mannequin is bound to generate the same kind of attention for Zilberman and for his store. How that attention results into selling underwear or getting people politically active, remains to be seen.