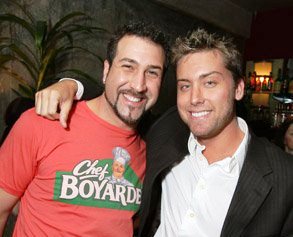 "Joey walked in on me with the guy I was dating just kind of sitting on my lap," Lance Bass told Billy Bush and Kit Hoover on Access Hollywood Live, referring to NSYNC band mate, Joey Fantone. "Straight guys don't do that."
Fantone didn't so much as flinch after witnessing some boy-on-boy TLC.  "I'm like, 'Surprise!'" Bass told AH. "Joey was just like, 'Dude, I don't care. I have so many gay friends – I don't care.'
The former NSYNC crooner, who is now happily engaged to his fiancé Michael Turchin, reminisced of the times when he was in the closet over a decade ago.
"I came out to my family around 21, 22. It was hard, but once I ripped the Band-Aid off, it was incredible," Lance told  Access Hollywood Live. "Everyone was so supportive – my family loves me just [the way] I am."
Bass later told the rest of his NSYNC bandmates, after Fatone walked in on him.
"It was a few months after that before I told the [rest of] the guys… I don' t think anyone was surprised," he added.
The the AHL interview did not mention how Bass was publicly outed by celebrity gossip blogger Perez Hilton in 2006.
Lance is now executive producing Lifetime's "Celebrity Home Raiders," where stars will donate items from their homes to be auctioned off in support of charities,
"Celebrity Home Raiders" kicks off Thursday night at 10 PM on Lifetime.