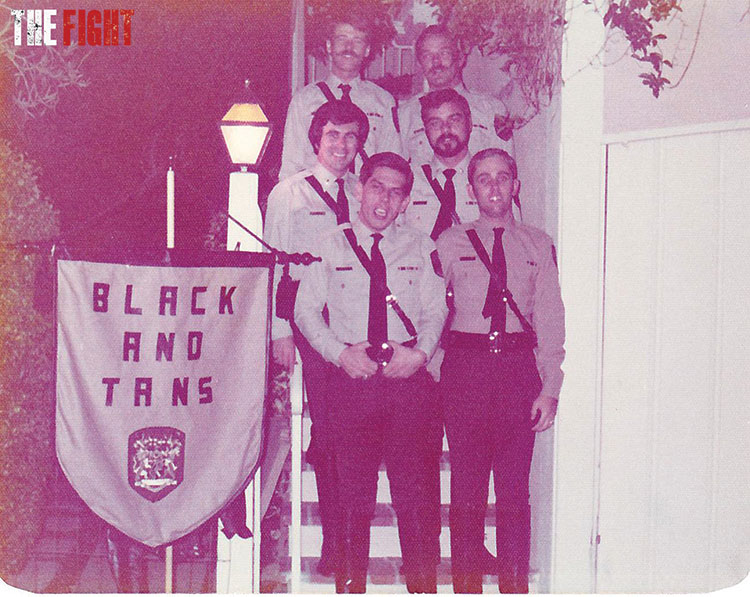 Black & Tans, 1974
Celebrating 40 years of service in uniform.
BY ROBERT BLACKMON
IN JUNE 1974 a group of men decided to band together and make their mark on the local Los Angeles uniform community.
Little did they know that forty years later they would leave a footprint that would forever change the way service, leadership and brotherhood would be viewed amongst men in Los Angeles.
Gary Alexander, Ken Balder, Armin Hoffman, Gary Howell and Joseph Sager went to a retreat hosted by the Oedipus Motorcycle club—The Grecian Games at Wrightwood. The theme was storybook fairytales. About eighteen different social clubs attended this event.
---
"More than just a uniform club, The Regiment of the Black and Tans is a part of the fabric of our local community. It encourages brotherhood and desire to embrace your fetish… whatever it may be."
---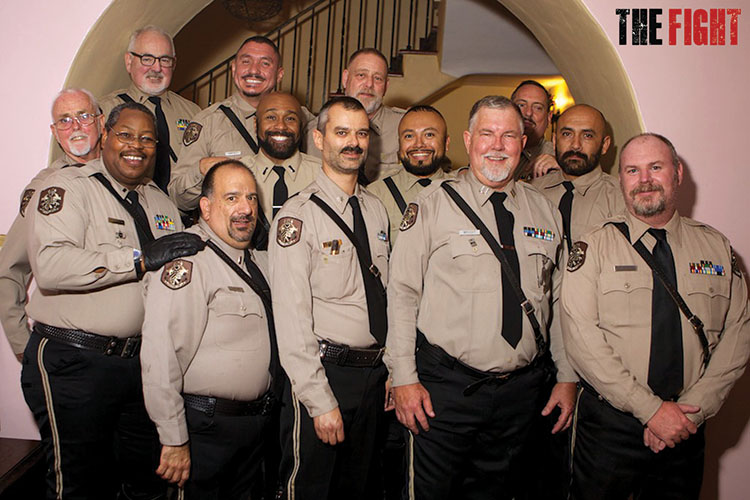 Black & Tans, 2014
Gary and the guys didn't have a uniform, so they all decided to wear tan shirts with their leather motorcycle pants. Peter Bromilow, an Englishman, walked passed the group and said, "Look who's here. It's the Black and Tans!" The B&T were known as an old Irish rebel group. The guys looked at each and liked what they heard. A year later they formally changed the name to The Regiment of the Black and Tans.
Since then the Black and Tans have been visible and instrumental in the evolution of the local uniform, leather fetish community.
It's purpose and objectives are to "foster brotherhood and be of service to the community."
While many people see the guys out and about in their uniform—resembling a version of a CHP officer—they assume that it's a group of leathermen.
This is not true. The club is made up of men who are uniform aficionados. That is to say—men who enjoy the collecting of and wearing of uniforms.
While many of them are also leathermen their primary focus is the uniform.
In this exclusive club (never more than 18 members  as per its  bylaws) many are former and active civil servants. Firefighters, reservists, and military men make up a large number of it's membership.
Over the years the club has been know for it's over the top functions, dinner parties, and fundraisers. For decades "Spring Maneuvers" was the must have ticket—as this covert operation play party was always at a secret location. One had to drive to a designated spot to obtain directions to this private location.
Every summer The Black and Tans and friends having some good clean fun at the Wet Boxers Contest at Pistons bar in Long Beach. The proceeds of this event goes to a local Long Beach charity, usually one of the AIDS Food Banks. In recent years Grunt combined the Mr. Regiment contest with a play party and offered something for everyone who attended.
The club also proudly  sponsors the Mr. Regiment Contest. The past FOUR CONSECUTIVE Mr. Regiment's have won the title Mr. Los Angeles Leather!
But the perennial favorite that everyone talks about is Change of  Command Dinner. This is the summer gala in which the new officers for the upcoming year are sworn into office. It is a by invitation only affair that never disappoints.
This year in it's 40th year the Change of Command's theme is 40 Years of Service in Uniform. The club has some very special plans for this "Ruby" anniversary. Speaking as it's current Commander all I can say is you won't want to miss it!
I would be remiss if I didn't mention that in 40 years there is still one member who has remained since day one, or as he says, day five. This amazing man is Riley Black. While the club was formed in June he joined in September and has been a faithful member ever since!
The Regiment of the Black and Tans is more than just a uniform club. It is a part of the fabric of our local community. It encourages brotherhood and desire to embrace your fetish… whatever it may be.
---
For more info visit: blackandtans.org.