A COLLECTION OF SHORT STORIES BASED ON CHRISTOPHER DANIELS' ESCORT EXPERIENCES.
BY VICTOR MELAMED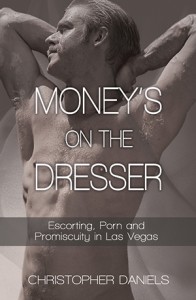 CALLED THE "HEMINGWAY OF HOOKERS," adult film star and escort Christopher Daniels chronicles his career as a businessman who sells his companionship to other men in his new book, "Money's On The Dresser."
Daniels' began working as an escort in Las Vegas in 2009 after breaking up with his partner of four years. As a newly single man he felt lost, scared to be on his own and broke. He decided the best solution was to place an ad on a few websites advertising male escorts and to his surprise, hours after the ad went up he began receiving a wide range of requests. These requests came from a varied group of men—some with disabilities, physical deformities, married busi- nessmen and even gorgeous men he was extremely attracted to physically. A few of these men became mentors and friends, while others made him want to run out of the room screaming. "Money's On The Dresser" is a collection of short stories based on some of those escort experiences.
"I chose the path of escorting—and later porn—because of money," admits Daniels. "In doing what I am doing I have been able to use my sexuality as a way to connect with people, and make them feel good on many levels—not just sexually. I didn't expect to have an impact on others and I feel blessed that I have been able to do so. Of course the money is the reason I started escorting and the reason why I continue. But, it means a lot to me when I can have a positive effect on someone's life and give them an experi- ence they will never forget."
Christopher's sophisticated, self-deprecating and often hilarious writing style will surprise and delight readers, regardless of where they stand on the topic of the adult entertainment industry. "Money's on the Dresser" is available at www.Christopher-Daniels.com (for USA orders) and www.Amazon.com (for international orders).