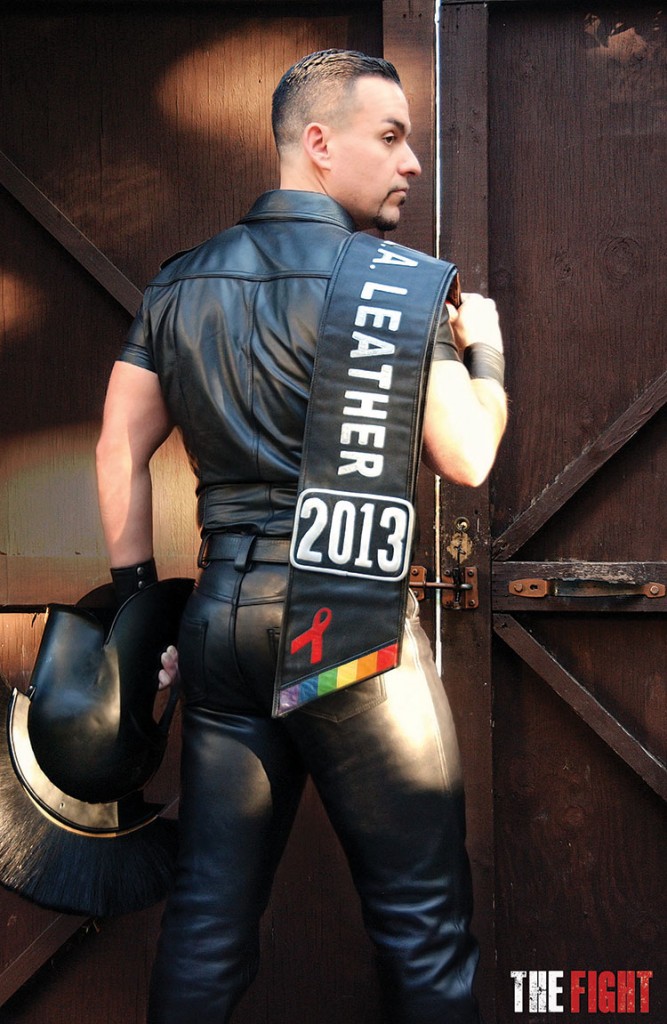 Helmet courtesy of The Costume House
Justin Emerick, the outgoing Mr. LA Leather, on exploring kinks, the fraternity of brotherhood and passing the torch.
BY MARK ARIEL | PHOTO BY ANTHONY DURAN
IN THE "THINGS-AREN'T-ALWAYS-WHAT-THEY-SEEM" CATEGORY this past year's Mr. LA Leather would most likely be a strong contender for first place.
Mild-mannered, affable, soft-spoken and surprisingly unassuming, Justin Emerick is not, at first glance, the obvious choice for a local leather god. However—the moment he dons his leather gear and sash and stares deeply into your eyes—the transformation from ordinary Joe to leather royalty suddenly becomes a titillating reality.
Emerick, Mr. LA Leather 2013, a magna cum laude graduate of Pepperdine University with degrees in International Studies and Spanish, is the founder of one of the first LGBT student groups on the church of Christ affiliated campus.
---
"The moments that stood out for me this past year were conversations
with folks in the gay community about leather. Some people seem uneasy, at first, about their attraction. However, as these conversations progress, many suddenly
realize how much it turns them on…"
---
During his college years, he spent a year abroad in Buenos Aires, studying Spanish and Latin American history. He began his career with the Peace Corps where he served in Paraguay as a Rural Health Volunteer in a small farming community near the Brazilian border. The highlight of his experience was mentoring youth in self-esteem and sex education.
After his service, he was hired as an investigator in law enforcement for the Wage and Hour Division of the U.S. Dept. of Labor. The mission of the agency is to protect and enhance the welfare of the nation's workforce.
Currently, Emerick serves as the Los Angeles District Office's Community Outreach Coordinator, working with employee advocacy groups, unions and business associations for the strategic planning of department's many goals and initiatives.
"Being Mr. LA Leather has been hectic," reveals Emerick in an interview with THE FIGHT. "I don't think I had a clue how big our community is and all the events that go on throughout the year. It has been fun getting a taste of the different clubs, bars and organizations that are part of the Los Angeles community, and across the country."
"The moments that stood out for me this past year," says Emerick, "were conversations with folks in the gay community about leather. Some people seem uneasy, at first, about their attraction. However, as these conversations progress, many suddenly realize how much it turns them on… It's amazing to see people go through that, and witness it as it happens."
"Actually," reveals Emerick, "it took me step by step to get my toes wet because I think I was hesitant about defining myself as a leatherman, as well. I think for some reason in my head I thought I had to know everything about every kink and tradition to be a leatherman. But for me, being a part of the community is special because it is a fraternity of brotherhood. I love the leather. I love the men. I love to explore my kinks, but also know that we are here to support and trust one another in the community."
When asked if his perspective on the leather community has changed  after his year as Mr. LA Leather 2013, Emerick says the experience has "made me reflect on my genuine interests in leather. Who knew I would fall in love with all these pups (fetish of acting/behaving like a puppy) running around!"
In general, says Emerick, the leather title is ultimately what you make of it. "You are not given a manual when you win. It really is a year to create anything you want."
"Over the summer I marched in quite a few pride parades, hosted a leather pool parties, and have been to more fundraisers than I can count," reveals Emerick. "I think my favorite was going to our klownf*cker party that Payasos (Latino clown fetish group) co-hosted with the Sisters of Perpetual Indulgence."
"As the year draws to a close," reminisces Emerick, "it is a pleasure watching the new crop of titleholders win their titles. It is very cathartic to watch their experiences and realize the fun I have had over the year and more. Running for a title—whether or not you win one—gives you the opportunity to taste and experience all that the leather fetish community has to offer. Then, you really get to choose where your interests lie and go from there."