COVERFEATURE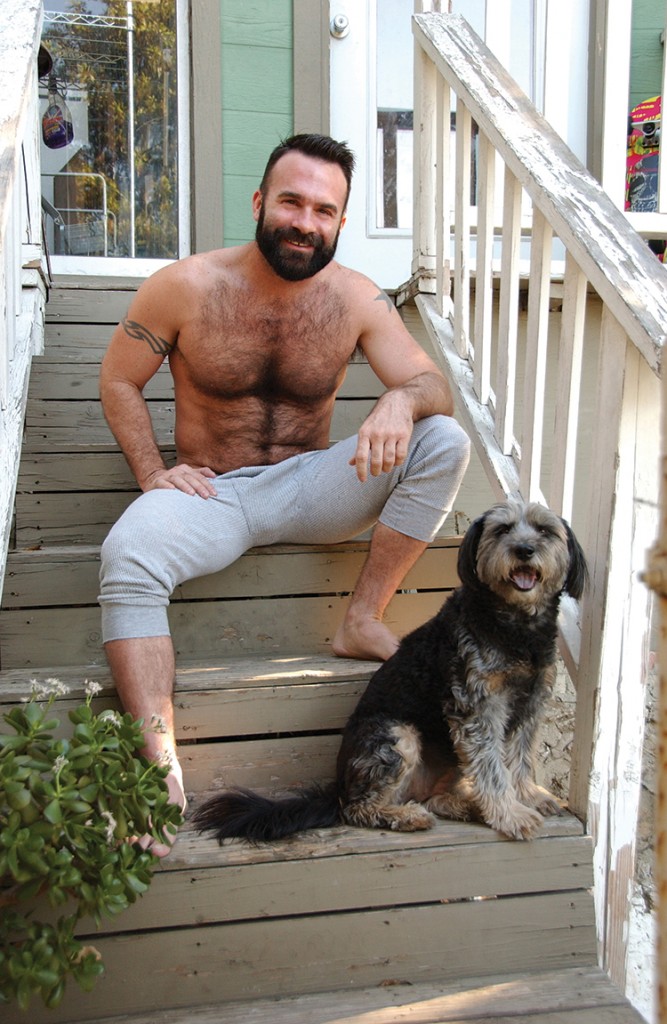 VETERAN TV AND FILM SCRIPTWRITER  RICK COPP INTERVIEWS CHAD SANDERS, ONE OF THE LEAD ACTORS IN THE WEB SERIES "WHERE THE BEARS ARE."
BY RICK COPP | PHOTOS BY ANTHONY DURAN
HOW COULD I POSSIBLY RESIST the opportunity to interview my co-star and drinking buddy Chad Sanders for THE FIGHT's Special Bear Issue?
As one of the writers of the web series "Where The Bears Are," I am in the enviable position of sitting in front of my computer late at night pondering the question, "Just how am I going to get Chad out of his clothes in this episode?" But as I came to find out, Mr. Sanders isn't quite comfortable playing his break out, sex-on-a-stick, character Detective Chad Winters, especially when it comes to all those salacious sex scenes that have helped the show score over 7 million hits in less than two years. There were other eye opening surprises to discover about Chad as we sat down at a Silver Lake coffee shop recently to dish about his past and the show.
---
"THE BEAR MOVEMENT STARTED WITH LARGER, HAIRY GUYS AND THEN THE MUSCLE BEARS CAME IN AND THEN THE CUBS AND THE OTTERS, AND EVEN HIPSTERS WANTTOBEA PARTOF IT. NOW IT'S MORE OF A STATE OF MIND RATHER THAN A GAY CLIQUE."
---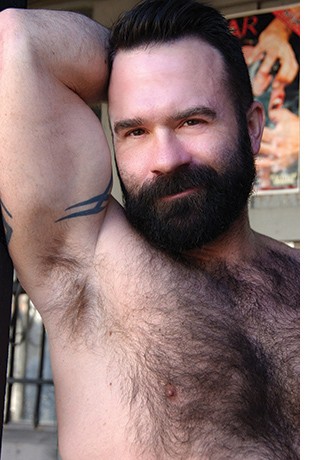 HOW ON EARTH DID A BACKWOODS COUNTRY BOY FROM TULLAHOMA, TENNESSEE BECOME THIS HAIRY-CHESTED SEX SYMBOL FOR THE BEAR COMMUNITY?
Totally by accident. Joe Dietl, the producer of "Where The Bears Are," was looking for guys to audition for the show and asked a mutual friend if he knew of anyone. My buddy had seen my work playing a straight guy in a horror film short, and he sug- gested I come in and read for Hot Toddy. My boy- friend at the time who was an acting coach read the script and told me I wasn't right for the Hot Toddy role and talked me into rehearsing the Detective Winters part. When I came in, I was excited and nervous because I had been told one of the guys had been a writer on "The Golden Girls," which was and still is one of my favorite shows.
THAT WOULD BE…
Yes! You! I read for Hot Toddy and then you guys asked me if I would be interested in reading for Detective Winters and gave me a few minutes to look it over, but I didn't need any extra time because I had been preparing for a whole day! I did everything my ex told me to do, got some laughs, and then you guys told me on the spot that the part was mine.
SPEAKING OF "THE GOLDEN GIRLS," WHICH ONE IS YOUR FAVORITE?
Hmmmmm, I think all of them at different times and different episodes were my favorite. Bea Arthur had the strength and sarcasm. She was the stable one of the group and boy her timing is unmatched by any come- dian. Ben, I think has a lot of her char- acteristics as Nelson on the show. I crack up watching him. I love Blanche as well because her promiscuous side is something I can really relate to, hehe, Just kidding! Well kinda.
I'd like to believe that we have a bit of all four of the Golden Girls inside of us, which adds up to one beautiful gay man.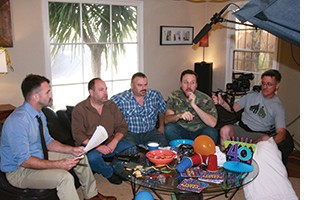 OUR SHOW "WHERE THE BEARS ARE" HAS BEEN DESCRIBED AS "THE GOLDEN GIRLS" WITH BIG, HAIRY GAY MEN. WHO IS YOUR FAVORITE BEAR? AND THINK VERY CAREFULLY BEFORE ANSWERING.
I love all of you guys! Individually you're all wonderful but when you're together you're superb. I adore everyone in the cast. It's such an easy job. Now if I was to choose who I love to hang out and party with, like we did in Austin, Texas last Labor Day for a Bear Weekend, it would be Rick Copp!
GOOD ANSWER! WHO IS THE SEXIEST BEAR IN ENTERTAINMENT, IN YOUR HUMBLE OPINION?
I have had a HUGE crush on James Gandolfini ever since I saw the Quentin Tarantino movie "True Romance." And "The Sopranos" of course is another one of my favorite TV shows. When he died, I was crushed. But man, he is the epitome of a sexy bear. Big, hairy, smart, and with a heart of gold. I'm also a big Burt Reynolds fan. God, the things I fantasized about him as a child.
AND NOW YOU'RE A COVER BEAR FOR THE FIGHT! HOW THE HELL DID THAT HAPPEN?
Who knows? I never considered myself a bear until I was cast in the show. During the first season of WTBA I was 155 pounds and right before shooting I shaved my entire body for another acting gig so when I showed up on the set and took my clothes off everybody was kind of shocked! I didn't really know any better! I didn't think I was a bear. Then when I figured out that the audience likes a guy who is naturally hairy I adjusted for season two. I also had gained a little weight. There is nothing like fans loving you for being a little heavier!
SO BEFORE YOUR SUCCESS IN WTBA, WERE YOU A TWINK? In the nineties, I was a part of the gay circuit parties and everyone shaved and had to look a certain way. That's basically what I came out into. And then from there I tried everything! There are dozens of cliques in the gay community and I've been a member of all of them. Which translated means, I'll sleep with anybody! As I've gotten older, I've gotten more comfort- able looking more like my Dad and feeling so much better about myself, and that's what I think the Bear Community means. I have more confidence, not trying to look a certain way or be a part of a certain group. The Bear Movement started with larger, hairy guys and then the muscle bears came in and then the cubs and the otters, and even hipsters want to be a part of it. Now it's more of a state of mind rather than a gay clique. And my involvement in WTBA has allowed me to meet so many beautiful men, kind men, all of whom are very ac- cepting and hospitable.
YOU HAVE A VERY COLORFUL UPBRINGING. CARETOSHARE?
I grew up in kind of a hippie household in the 70s and it was completely normal for me to come out of my room and find people crashed out on our living room floor. I remember this one girl with really long hair to her waist, like early Cher hair, and I was obsessed with brushing it for her. I just loved hair. Only later did my obsession switch to men's body hair! Anyway, when I was about 14 my parents sud- denly found Jesus. My dad was an alcoholic and suddenly quit drinking and became a born again Southern Baptist. Both my parents were addictive personalities and their new addiction became Wednesday night Bible Studies and church every Sunday. So my childhood went from one extreme to the other.
WHEN WERE YOU FIRST CLUED IN YOU MIGHT BE GAY?
When I saw the movie "Deliverance" with Burt Reynolds in that hot leather vest and showing off that beautiful black chest hair. Both my brother and I were ob- sessed with Burt Reynolds but for entirely different reasons. Harrison Ford in Star Wars was another big clue.
TELL US ABOUT YOUR FIRST GAY SEXUAL EXPERIENCE! I LOVE THE POWER OF PUTTING YOU ON THE SPOT!
I was very sexual in high school and basically just used girls for sex. I tried having girlfriends but they never seemed to be enough for me. I cheated a lot. When I was seventeen, I met a guy who was 23 working at Walmart in the electronics department and he helped my mother buy a VCR. He gave me one of those looks I had never seen before from a man. I found out he was a friend of a friend from high school, and we all partied together one night. I told my mother I was going out with a girl, but instead I went out with my buddies, who knew this guy. We ended up alone that night. I had a few drinks in me and I was so nervous and shak- ing. We were on the hood of his car out at Ledford Mills right near where my parents live now. He asked if he could kiss me, and I said yes. I had been with so many girls but had never, ever felt anything close to this. Of course my first thought was, "I'm going to hell tomorrow!" But it was too amazing not to try again!
DOES CHAD SANDERS HAVE A HUSBAND AT HOME?
No. I am single and carefree! And I'm going to International Bear Convergence in Palm Springs in February so I want every- body going to know that! Anybody who knows me will tell you, I love all kinds of men! I have dated so many wildly different types. I believe in chemistry and if you are kind, smart, witty and turn me on then it doesn't matter what you look like and you can see that in all my exes. I definitely do not have a physical type.
YOU'RE DEFINITELY NOT SHY WHEN IT COMES TO SEX!
Actually as an actor, I'm a lot more uncomfortable. Before "Where The Bears Are" I mostly played straight dad roles. I get a little insecure playing Detective Winters because he's gay and closer to the real me. Although he's a lot more butch than I am! I feel very vulnerable when I'm naked on camera and my instinct is to go for the laugh. In the first season, when Detective Winters stripped off his clothes and Reggie fainted and we realized it was all in Reggie's mind, that was hysteri- cal to me and I had no problem with it. But in season two, there were a lot more sex scenes with George Unda (Detective Martinez) and Joe Dietl (Wood) and I can't watch those scenes to this day. I can't watch myself try to be sexy.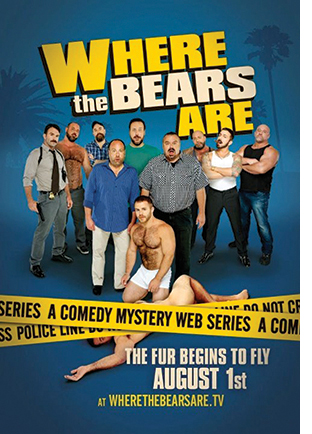 WILL DETECTIVE WINTERS BE BACK IN SEASON THREE OF WTBA?
Yes. Definitely. If there is a season three. We're organizing a Kickstarter campaign that will launch next month so it's really up to the fans whether or not the show will be back.
THANK YOU, CHAD! FINGERS AND TOES CROSSED THAT WTBA WILL BE BACK FOR ANOTHER SEASON WITH LOADS OF SEX SCENES FEATURING THE DELICIOUS DETECTIVE WINTERS SCANTILY CLAD ENOUGH TO MAKE YOU SQUIRM!
---
For more info on "Where The Bears Are" visit: WhereTheBearsAre.TV.