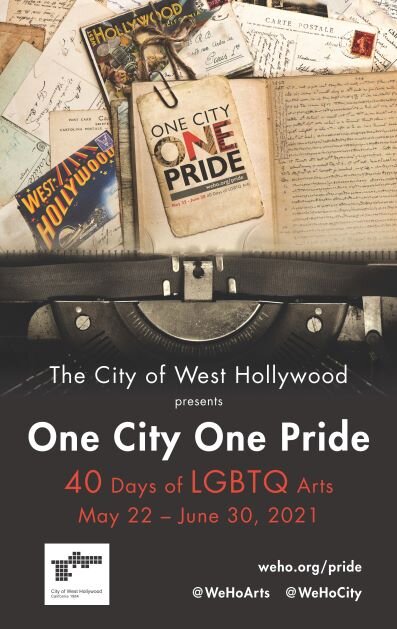 Each year, the City of West Hollywood celebrates the artistic contributions of the LGBTQ community with its vibrant One City One Pride LGBTQ Arts Festival. The festival runs for 40 days, from Harvey Milk Day on Saturday, May 22, 2021 through Wednesday, June 30, 2021, which marks the end of Pride month.
View a brief promotional video for One City One Pride here: http://bit.ly/2021OCOP.
The 2021 theme for One City One Pride is For the Record LGBTQ stories of the past that have often been hidden or undocumented. One must read between the lines to find stories hidden behind "beard" marriages, coded language, and erased or destroyed evidence. This year, One City One Pride looks at some of these previously hidden stories.
Due to the coronavirus crisis, all festival events are being presented on an online virtual platform to respond to the City of West Hollywood's efforts to prioritize health and public safety. A select few programs can also be experienced as self-guided solo walking tours or outdoor exhibitions.
More detailed information about the following City of West Hollywood One City One Pride LGBTQ Arts Festival events is available at www.weho.org/pride.
Forthcoming events of the 40-day festival include:
Pride Poets Poetry Hotline presented by West Hollywood City Poet Laureate Brian Sonia-Wallace & the Pride Poets from 10 a.m. to 10 p.m., Friday, June 11, 2021 to Sunday, June 13, 2021. Free. Call in to get a custom poem for you or a loved one based on the topic of your choice, written by one of the team of LGBTQ+ Pride Poets standing by at the remote Poetry Hotline from June 11-13, marathon-style from 10 a.m. to 10 a.m. Poems will be written on-the-spot and callers can choose to have copies of the poems emailed or mailed to them. Poetry hotline: call (202) 998-3510 to speak to a poet.
LGBTQ History in Comics — A virtual panel with readings from creators presented by Prism Comics. Launches Tuesday, June 15, 2021, at 6 p.m. Free. View the panel at: http://www.youtube.com/wehoarts and www.prismcomics.org. Join Prism Comics, moderator Justin Hall (No Straight Lines; Associate Professor of Comics, California College of The Arts) and a diverse, talented group of creators as they explore our queer past through comics. The panel and readings will remain online for viewing after the premiere date. More information is available at www.prismcomics.org.
Secret Lives, stories, music, and original writings by LGBTQ seniors watch party presented by NewStages, a program of Oasis Theater Company at 7 p.m. on the first four Tuesdays in June. Free. RSVP by calling (323) 860-5830 or by email at seniors@lalgbtcenter.org. Secret Lives will explore the stories of remarkable seniors as well as many historical figures who had to keep secrets to maintain their careers, their families, and their place in society. Archived events available at www.weho.org/pride.
Additionally, these programs are available to view through June 30, 2021:
Dear Harvey: Stories of Harvey Milk by Patricia Loughrey. Extensively researched and beautifully constructed, this documentary-style ensemble play recounts the life and lasting impact of groundbreaking LGBTQ activist and politician Harvey Milk, as told by the people who knew him best … the real-world figures whose lives were forever altered by Milk's too-short career. This performance will be available to watch for the duration of One City One Pride through June 30, 2021 athttps://www.youtube.com/watch?v=ShX27kXqwBg and there is a special welcome from Stuart Milk, the nephew of Harvey Milk.
John Elgin Woolf: Master of the Hollywood Regency (Trail and Short Film) presented by Friends of Residential Treasures: LA. Free. Experience online or as a self-guided walking tour. Take this self-guided architectural trail curated by filmmaker and journalist Matt Tyrnauer, or watch a short film exploring the interior of the Seiter House — an important early work that John Elgin Woolf designed for himself and his same-sex partner.
Love Note presented by Rogue Artists Ensemble. Free. No RSVP Needed. Experience online or as a self-guided experience at Plummer Park, located at 7377 Santa Monica Boulevard. Rogue Artists Ensemble's Love Note is a free, interactive, solo audio expedition of your heart, taking place in West Hollywood's Plummer Park, where audience members can activate sonic narrative experiences at eight unique stops throughout the park. Using only a cell phone and headphones, participants will discover and listen to stories about romance, compassion, and connection, leading to a secret phone line, where participants are invited to share their own love story that will become part of the project's archive. The community-contributed stories recorded during the run will be then woven back into the experience to create an ever-evolving tapestry of voices calling out for love and belonging. This experience is free and open to the public during park operating hours. The experience contains some mature themes and is not recommended for children. A travel map is available for download at the Rogue Artists Ensemble website for audience members to use for their story expedition in the park. Can't make it to Plummer Park? Visit the Rogue Artists Ensemble website at www.rogueartists.org/lovenote to create your own experience from the comfort of your home.
Meringue, a public art exhibition. Free. Outdoor exhibition on traffic median at Santa Monica Boulevard and N. Doheny Drive. Meringue is a temporary public art exhibition by LGBTQ artist Kim Kiduck. The translucency of Meringue lets sunlight in to glow naturally during the daytime, and at night transforms Meringue into a mixing chamber of various light combinations. The exhibition will be lit up in rainbow colors for the duration of the City's One City One Pride LGBTQ Arts Festival.
The City of West Hollywood's Human Rights Speakers Series presents: Breaking Fast. Free.
The City of West Hollywood's Human Rights Speaker Series and One City One Pride LBGTQ Arts Festival present Breaking Fast: Exploring the Intersection of Faith and Sexual Identity, an open panel discussion of the feature film, Breaking Fast, and its themes related to navigating the difficult conversations and real-life impacts of faith, sexual identity, and community. Archived event video available to view at https://www.youtube.com/watch?v=NmSvpTBPzkI.
Walking Amongst the Rubble: Undocuqueer Pride Queer Poetry Reading Series presented by Influx Collectiv. Free. More information and the online podcast is available at https://www.influxcollectiv.org/podcast.
Pride Publics: Words and Actions presented by ONE Archives Foundation. Free. ONE Archives Foundation presents "Pride Publics: Words and Actions," a multi-site outdoor exhibition that examines the intersection between pride and publicness and examines themes central to queer public life while highlighting trailblazers and their visions. With free and accessible outdoor installations plus a digital guide, this exhibition aims to give visibility to LGBTQ life in the public through the lens of history, community, and activism. More information is available at https://www.onearchives.org/pridepublics. This exhibition is organized by ONE Archives Foundation.
For more information about the City of West Hollywood's One City One Pride LGBTQ Arts Festival, please contact the City of West Hollywood's Arts Coordinator, Mike Che, at (323) 848-6377 or at mche@weho.org or visit www.weho.org/pride. For people who are Deaf or hard of hearing, please call TTY (323) 848-6496.
The City of West Hollywood's One City One Pride LGBTQ Arts Festival is organized by the City of West Hollywood's Arts Division. The City of West Hollywood is committed to providing accessible arts programming for residents and visitors. The City of West Hollywood's Arts Division delivers a broad array of arts programs including: Art on the Outside (temporary public art), Urban Art Program (permanent public art), Summer Sounds, Winter Sounds, the WeHo Reads literary series, Free Theatre in the Parks, Arts Grants for Nonprofit Arts Organizations, Library Exhibits and Programming, the City Poet Laureate Program, Human Rights Speakers Series and the One City One Pride LGBTQ Arts Festival. For additional information, please visit www.weho.org/arts.