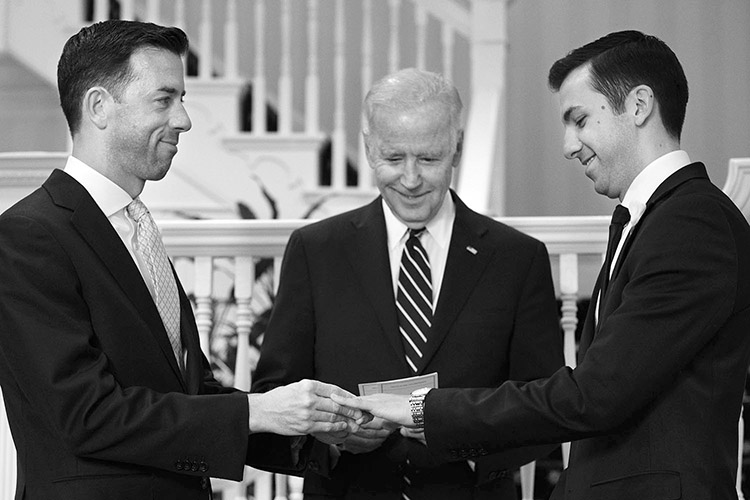 VP JOE BIDEN, BRIAN MOSTELLER, JOE MASHIE
GREAT GUYS
"Proud to marry Brian and Joe at my house. Couldn't be happier, two longtime White House staffers, two great guys."
—Vice president Joe Biden, in a congratulatory tweet, last month. Biden officiated the wedding of Brian Mosteller, director of Oval Office operations, and Joe Mashie, a trip coordinator for the first lady. The two men got hitched at a ceremony held at Biden's own home.

BEING FETISHIZED
"I really have been in situations where I've gone out on dates with white guys and I'm always wondering am I being fetishized. You look at their dating history and you find out they've only dated Asian men and you feel like you're not being liked for who you are, you're being liked because you're Asian."
—Filmmaker Andrew Ahn in an interview last month with The Muse (themuse.jezebel.com). In Ahn's debut feature, Spa Night, protagonist David (Joe Seo), the son of parents who emigrated from Korea, awakens sexually in the Korean spas in Los Angeles.
STRAIGHT LEADING
"I definitely don't think a gay leading man would have the same opportunities as a straight leading man… I don't know if that's offensive or not, but that's my thought right now. It shouldn't be that way."
—Actor Jared Leto in an interview GQ Style about the limits the industry puts on gay actors.

DON'T BLINK
"If you blinked, you missed it… There are others who are dealing with LGBT issues much more profoundly."
—George Takei on the gay scene in Star Trek Beyond. The scene in the movie is brief—Sulu walks up to his husband, who is with their daughter, puts his arm around him and walks away. 

FUTURE KEEPS
"As the future keeps moving on, I don't plan on having our relationship out in the public and all this media on it… but obviously there's excitement right now because people see it for the first time."
—Reigning WNBA MVP Elena Delle Donne revealing she is gay and engaged to her longtime partner, Amanda Clifton in an interview with Vogue magazine.

PERFORMER SAFETY
"Porn is not a substitute for sex education, any more than The Fast and the Furious is a replacement for driver's ed, and it's incredibly irresponsible to sacrifice performer safety for a morals campaign."
—Mr. LA Leather 2014 Eric Paul Leue, in an op-ed in The Advocate, explaining why Californians should vote no on Proposition 60 this November.

RESPECT THAT
"It is still illegal to be gay in Tonga, and while I'm strong enough to be me in front of the world, not everybody else is. Respect that."
—Amin Fonua, a gay Olympian swimmer from the Pacific island nation of Tonga, calling out a Daily Beast contributor for his article on using Grindr to find gay hookups in the Olympic Village—an article that could potentially put closeted gay men in danger.